Asus Rog Zephyrus G14 GA401QM-K2012TS Amd Ryzen 9-5900HS 1TB SSD 16GB Ram Nvidia GeForce RTX3060 6GB 14″ Inch FHD Win 10
Product name
GA401QM-K2012TS
Processor
AMD Ryzen 9-5900HS
Processor Details
3 cache, 16 MB
Video graphics
Nvidia GeForce RTX 3060
Video graphics Memorey
6GB
Display Refresh Rate
144 Hz
Operating System
Windows 10 Pro
Asus Rog Zephyrus G14
GA401QM-K2012TS
Asus, Rog Zephyrus G14, GA401QM-K2012TS, Amd Ryzen 9-5900HS, 1TB SSD, 16GB Ram, Nvidia GeForce RTX3060 6GB, 14″ Inch FHD, Win 10,
The ROG Zephyrus G14 makes the most powerful and mobile games available on Windows 10 Pro. Powered by 8-core AMD Ryzen ™ 9 5900HS processor and GeForce RTX ™ 3060 GPU, this slim and stylish device can handle much-needed apps and games. Two great viewing options – 120Hz QHD or 144Hz Full HD – allow you to immerse yourself in real-life Pantone® certified colors. While four speakers provide rich Dolby Atmos sound, unique two-way AI noise reduction makes voice chat clearer. Live your life at the speed of Zephyr with the perfect combination of power and mobility.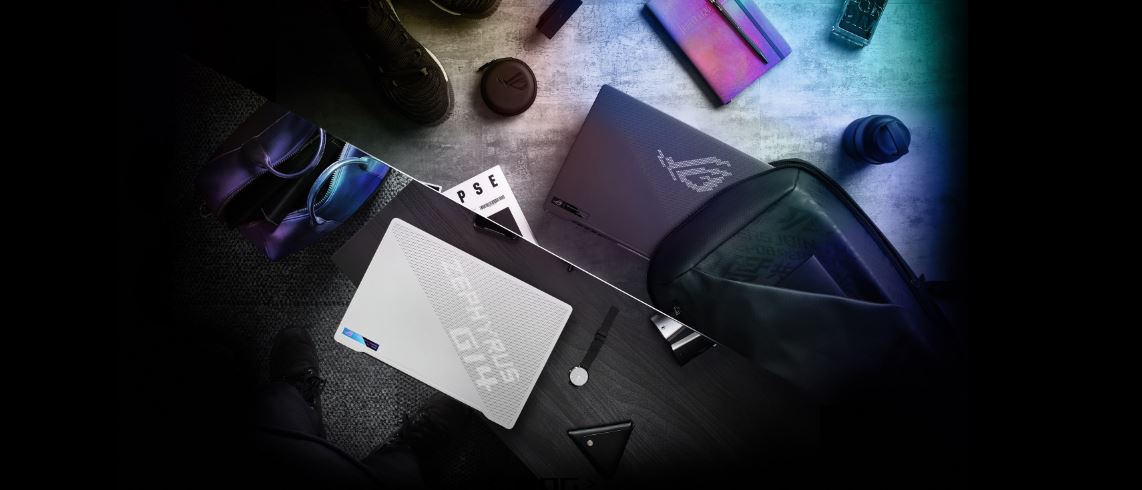 Built Up:
The pure beauty with four unique flavors makes the Zephyrus G14 easily impressive. Choose from Moonlight White or Eclipse Gray, both of which illuminate the 6536 precision mills with the AniMe Matrix ™ Programmable Mini LED display. Or use holographic white or holographic gray for a more subtle prism effect. Magnesium aluminum alloy with honeycomb reinforcement makes the structure strong and lightweight.

Precision Machining:
The impressive point matrix on the lid is made with an amazing CNC milling machine with an impressive 6,536 perfect surface. The unique style is elegant but subtle, with carefully selected aperture diameter from the 1,215 tiny LEDs below to display the right amount of light on the second AniMe Matrix ™ display.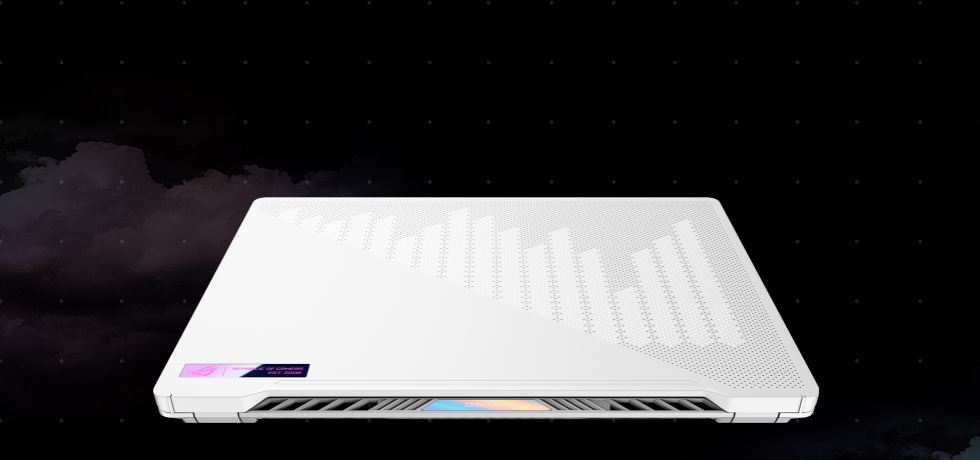 Light It Up:
The Innovative AniMe Matrix ™ displays your creations with mini-LEDs that can be set up with 1215 programs that light up the lid. Show custom designs, unique animations and vivid images for more beauty. Or keep your battery status, calendar, alerts, and more up-to-date with notifications. A new virtual pet from ROG Universe may also be on AniMe Matrix ™. This interactive helper responds to system usage, battery level, and appears on the desktop app!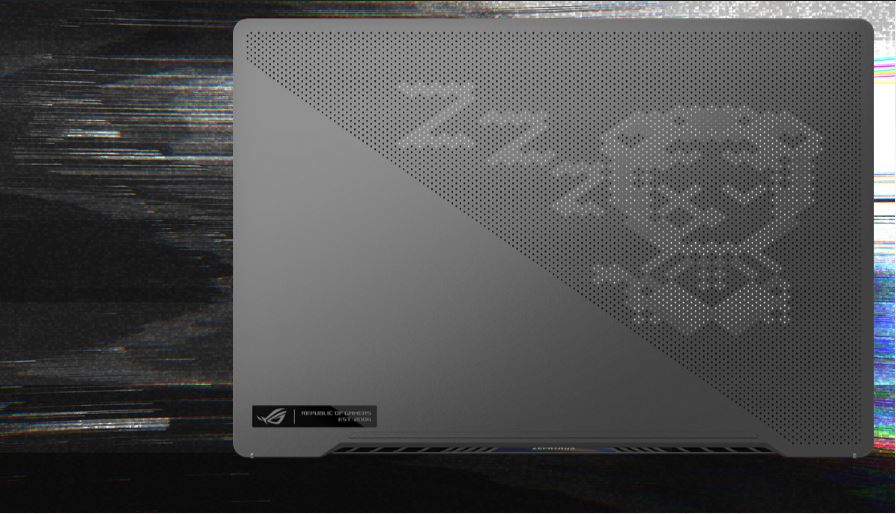 Power Up:
The Zephyrus G14 reconfigured its compactness in a 14-inch chassis weighing just 1.6 kg. Its AMD Ryzen ™ 9 5900HS processor is optimized for low power consumption and heat dissipation, providing superior performance for very thin laptops. Advanced 7nm processing technology allows up to 8 cores and 16 threads to be stored on a single chip, allowing you to handle heavy workloads. Add GeForce RTX ™ 3060 GPU, which can boost ROG Boost performance, and go from fast-paced games to content creation in no time.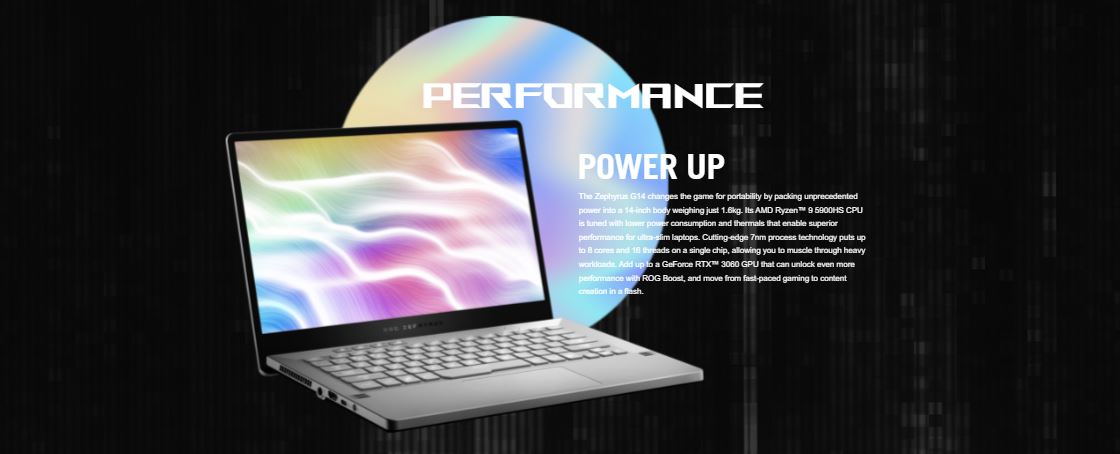 Live It Up:
Gaming laptops often struggle to live without huge power, but the energy-saving AMD Ryzen ™ 9 5900HS allows you to finish work with the Zephyrus G14 processor, watch videos, and be efficient without weighing them. USB power supply allows you to recharge your batteries with portable power banks and type C adapters or charge compatible smartphones and other devices quickly. Say goodbye to power distribution clashes in crowded cafes and live without limits.

Speed Up:
Choose the screen that best suits your needs. The 120 Hz QHD panel combines the best of both worlds with high refresh speed, high quality and professional DCI-P3 color gamut. For lightning-fast games, the 144 Hz HD panel combines high refresh rates with bright sRGB colors. Both Pantone® are certified for color accuracy. Both boards support Adaptive-Sync, which synchronizes screen and GPU, eliminates tears and makes games surprisingly smooth. The thinner straps around the screen are about to merge with the background, allowing you to fully immerse what is happening on the screen.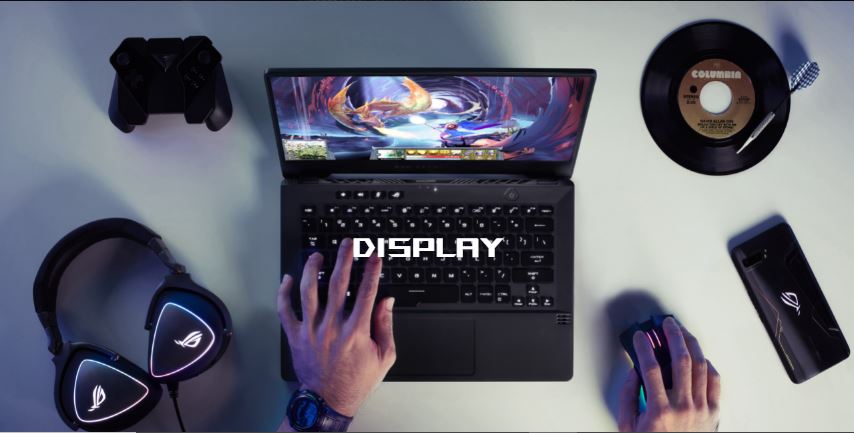 Mash Up:
The Zephyrus G14 comes with an unmatched keyboard that covers full size functionality on a very small device. This is the first ROG laptop to feature a fingerprint scanner on the power key, and activating your laptop will make it as easy as unlocking your phone. Desktop-inspired design makes you feel at home with hot keys for volume, microphone mute and ROG armor. Overcrowding technology burns faster for quick response with each key load, and the Ergo elevator design elevates the keyboard at an angle to make writing easier than ever.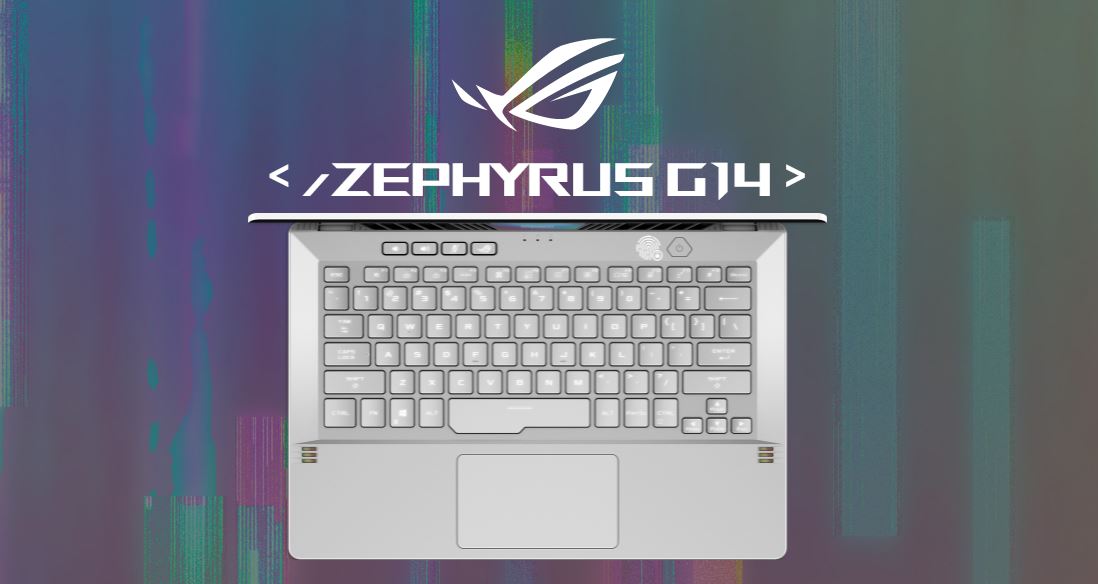 Turn It Up:
A 5.1.2-channel virtual surround sound powered by Dolby Atmos takes you to the center of the action. Two speakers play audio for you, while two smart speakers play the sound off the table. Switch between 6 presets to increase settings depending on game type and media, or manually adjust as per your choice. Two-way AI noise reduction makes streams, chats, and recordings clearer than ever before by filtering out both input and output audio signals. Our advanced AI-enabled dual-tone reduction technology completes connections with any input device, allowing you to eliminate noise from your microphone input and incoming stream. It also runs on GPU-free CPUs for higher FPS. Volume settings can be adjusted by each program, without touching the audio audio of the game you want to keep unaffected by filtering out special applications such as voice chat.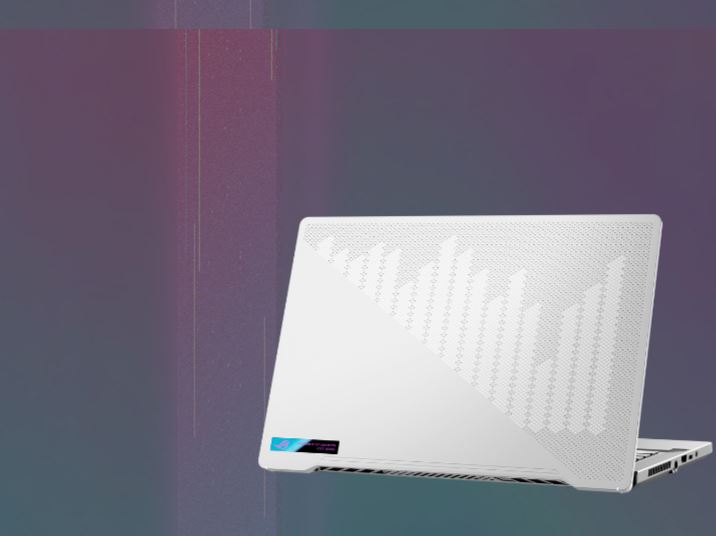 Don't Heat Up:
It is very difficult to get rid of high performance, especially in very thin notebooks. Innovative solutions are essential to ensure reliable and stable performance, which is why ROG's smart cooling philosophy combines the right features and system settings to provide the best experience, no matter what you do. The self-cleaning cooler in the Zephyrus G14 prevents the formation of dust that shortens its performance over a long period of time, with two Arc Flow fans rotating 84 knives each to create an impressive airflow in the thin design. ROG Armory Crate software seamlessly switches between operating systems to improve performance and performance.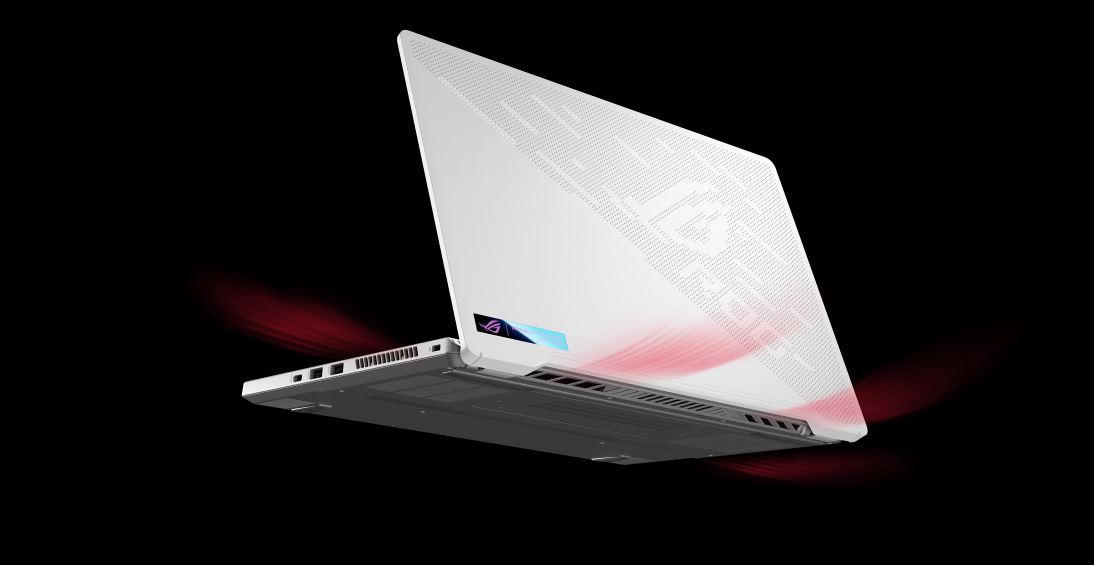 Tune Up:
The ROG Armory Crate software integrates system and lighting controls, making it easy to adjust key settings in one application. You can easily define and customize Scenario profiles that automatically adjust when your favorite games are released.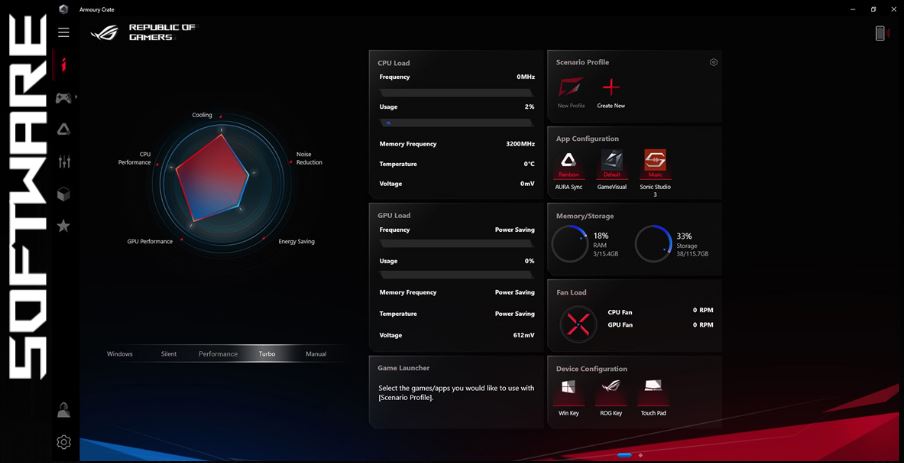 Load Up:
Different ports make the G14 particularly flexible. Connect a second display with DisplayPort 1.4 for a more efficient multi-function over USB-C. Watch movies in 4K UHD on the big screen or simply connect to a projector with HDMI 2.0b. Connect mouse, gamepad, drawing board and other accessories to play or create anywhere. No need for a Dong with a built-in 3.5mm headphone jack.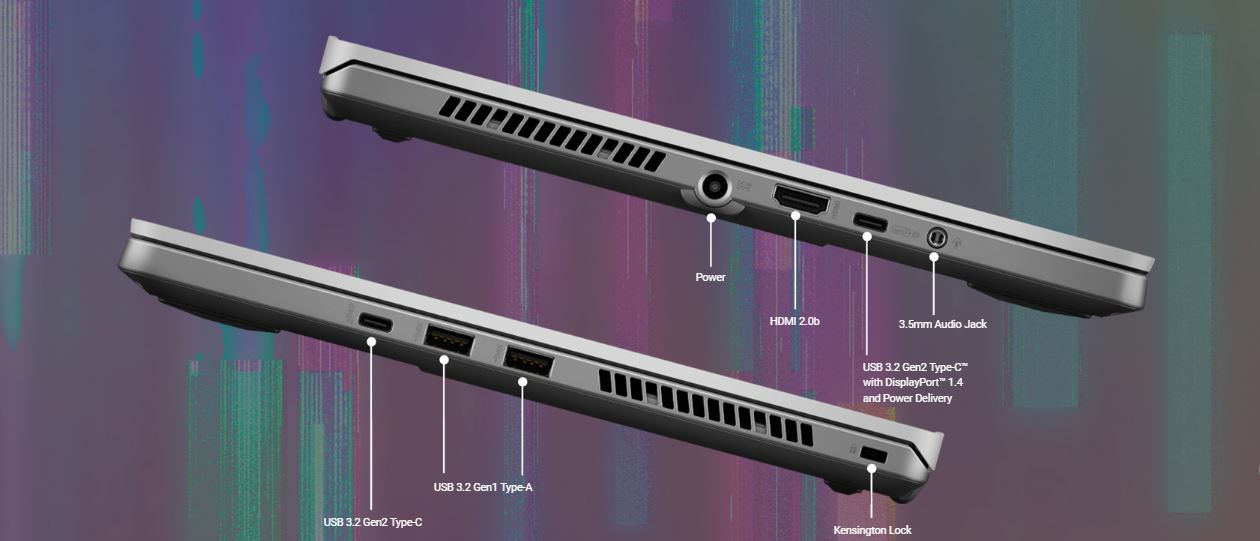 Gear Up:
Complete your ROG Zephyrus G14 with various game parts and accessories. Upgrade your broadcasts with the ROG GC21 external camera at 60 fps with clear full HD details. Navigation is smooth and accurate with the ROG Impact game mouse. Lighten the load with a small 100W inverter that provides enough power to keep you productive anywhere. And keep your laptop safe on the go with the right amount of storage.